CNC-ROUTERING
A CNC (Computer Numerical Control) router is a machine designed to carve out complex shapes from soft materials like wood, plastic, expanded foam, soft metals, and in some cases steel. The router uses hardened steel drill bits called mills. A CNC router works by moving a tool to specific x, y, and z coordinates throughout the machine's available working area. A router or high-speed spindle with a cutting tool then removes material at the desired locations. Different cutting tools can be used depending on the material and the feature being machined. These tools can be manually changed to cut different angles and thicknesses. A CNC router has many uses.
DIMENSIONAL LETTERS AND GRAPHICS
3-dimensional text and graphics can give strength and depth to even the simplest of signs. With vivid colors, textures and thicknesses they can enhance your sign and give it an unique appearance. We can make a variety of custom individual letters and numbers of all sizes, in many styles, using several different materials. Individual custom carved letters and numbers can be mounted on a building wall, on a signboard, or on a masonry monument base. It is a great way to have your Logo displayed on an office wall to promote your brand.
WOOD SIGNS CUT IN RELIEF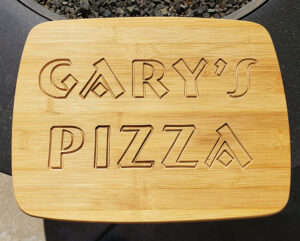 Wood and other soft materials can be cut out in relief with flat, "U" and "V" bits. They can be stained and the "cutout" painted inside for better contrast, depth and interest. V bits come in different sizes and angles in degrees, creating different depths and wider angles and more visibility. Smaller angle bits (15 degrees) are designed for smaller text and more detail, while larger 90 degree bits create a wider and more noticeable look. This makes for great personalized custom gift ideas. A pocket can be cut out leaving only the border and text for a professional 3-d looking sign.